Question #48
HOTSPOT –
You plan to create an Azure environment that will have a root management group and five child management groups. Each child management group will contain five Azure subscriptions. You plan to have between 10 and 30 resource groups in each subscription.
You need to design a solution for the planned environment. The solution must meet the following requirements:
Prevent users who are assigned the Owner role for the subscriptions from deleting the resource groups from their respective subscription.
✑ Ensure that you can update RBAC role assignments across all the subscriptions and resource groups.
✑ Minimize administrative effort.
What should you include in the solution? To answer, select the appropriate options in the answer area.
NOTE: Each correct selection is worth one point.
Hot Area: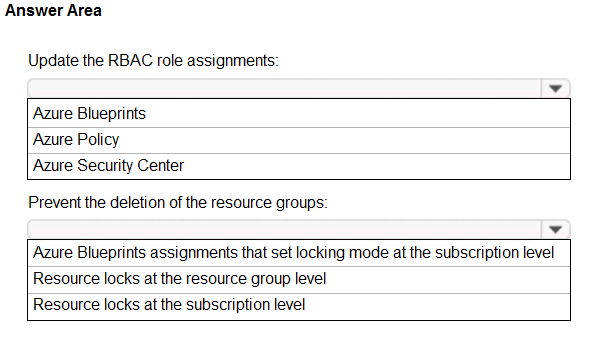 Correct Answer: Azure blueprints in both areas