Question 65
DRAG-DROP –
A developer must register a step using the Plug-in registration tool.
You need to associate the correct Event Pipeline Stage of Execution with its purpose.
Which stage should you associate with each description? To answer, drag the appropriate stages to the correct descriptions. Each stage may be used once, more than once, or not at all. You may need to drag the split bar between panes or scroll to view content.
NOTE: Each correct selection is worth one point.
Select and Place: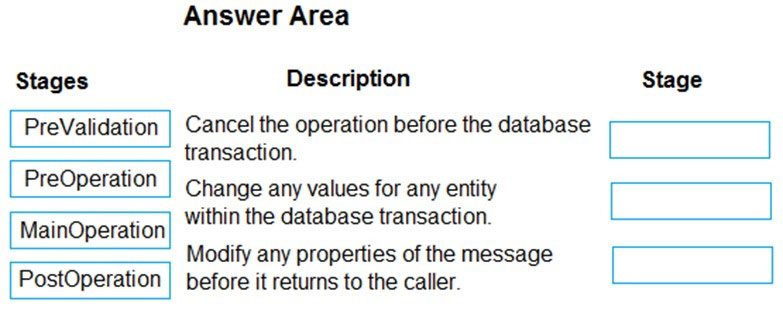 Correct Answer: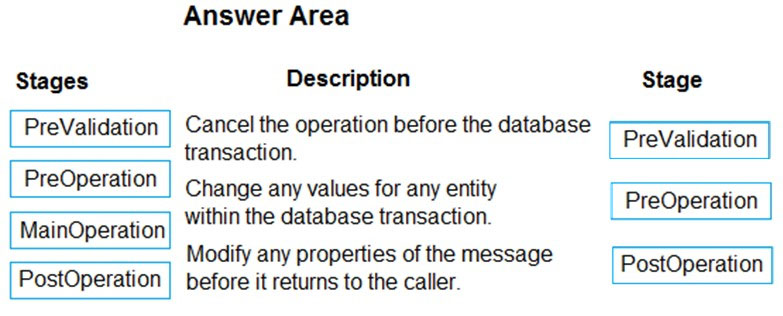 Box 1: PreValidation –
For the initial operation, this stage will occur before the main system operation.
This provides an opportunity to include logic to cancel the operation before the database transaction.
Box 2: PreOperation –
PreOperation occurs before the main system operation and within the database transaction.
If you want to change any values for an entity included in the message, you should do it here.
Box 3: PostOperation –
Occurs after the main system operation and within the database transaction.
Use this stage to modify any properties of the message before it is returned to the caller.
Incorrect Answers:
MainOperation: For internal use only except for Custom API and Custom virtual table data providers.
Reference:
https://docs.microsoft.com/en-us/powerapps/developer/data-platform/event-framework