Question 11
DRAG-DROP –
You are performing a requirements analysis for a customer.
The customer provides the following requirements:
✑ Power Platform storage capacity must remain under 100 percent.
✑ Customer service representatives must be sent an email when they are assigned a case.
✑ Help desk technicians must be shown an error message when they try to delete a task row.
✑ The plug-in pass rate must remain over 99 percent for the production environment.
You need to determine if the requirements are functional or non-functional.
Which requirement type should you use? To answer, drag the appropriate requirement types to the correct requirements. Each requirement type may be used once, more than once, or not at all. You may need to drag the split bar between panes or scroll to view content.
NOTE: Each correct selection is worth one point.
Select and Place: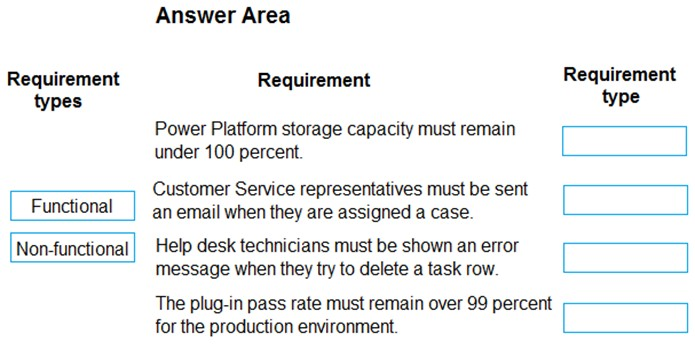 Correct Answer: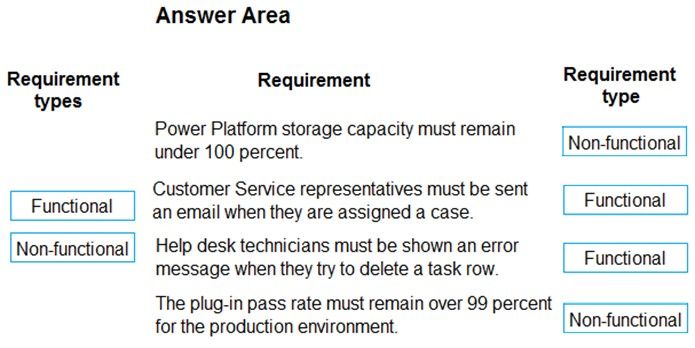 Box 1: Non-functional –
Non-functional requirements commonly describe non-behavior aspects of the solution such as performance requirements.
Box 2: Functional –
Functional requirements describe what the solution needs to do or its behaviors.
Box 3: Functional –
Box 4: Non-functional –
Examples of common non-functional requirement types include:
✑ Availability
✑ Compliance/regulatory
✑ Data retention/residency
✑ Performance (response time, and so on)
Privacy –



✑ Recovery time
✑ Security
✑ Scalability
Reference:
https://docs.microsoft.com/en-us/learn/modules/work-with-requirements/3-functional-requirements https://docs.microsoft.com/en-us/learn/modules/work-with-requirements/4-non-functional-requirements