Question 21
HOTSPOT –
You are designing the security model for a Power Platform solution.
The security model must meet the following requirements:
✑ Restrict sharing of data between Power Automate connectors.
✑ Ensure that environment administrators only see users who require access in the enabled user list.
You need to recommend security features for the solution.
What should you recommend? To answer, select the appropriate options in the answer area.
NOTE: Each correct selection is worth one point.
Hot Area:
Correct Answer: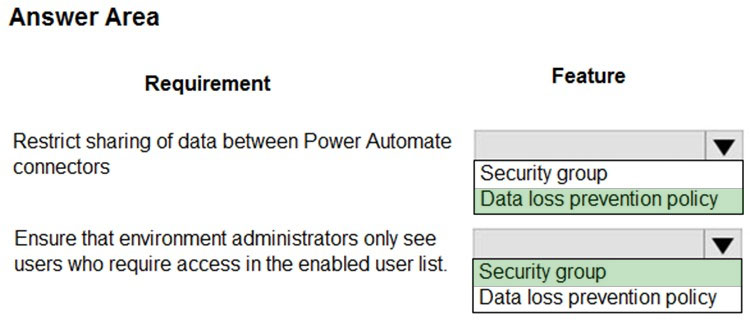 Box 1: Data loss prevention policy
Data loss prevention (DLP) policies enforce rules for which connectors can be used together by classifying connectors as either Business or Non-Business. If you put a connector in the Business group, it can only be used with other connectors from that group in any given app or flow. Sometimes you might want to block the usage of certain connectors altogether by classifying them as Blocked.
Box 2: Security group –
If your company has multiple Microsoft Dataverse environments, you can use security groups to control which licensed users can be a member of a particular environment.
Reference:
https://docs.microsoft.com/en-us/power-platform/admin/wp-data-loss-prevention https://docs.microsoft.com/en-us/power-platform/admin/control-user-access